"Don't travel" won't cut it.  One of my patients asked why I hadn't posted lately.  I said that I didn't have any new news and that things were getting worse.  The "Tripledemic" is a reality.   People don't want to hear bad news around Christmas.  So, first is an update and then there is some information on the CDC's recommendations for holiday travel. I'm looking forward to the spring.
Here is an article from Texas Medicine Today:
Texas Medicine Today recently reported that influenza, respiratory syncytial virus (RSV), and other respiratory ailments are poised to overwhelm hospitals and clinics. The big question then was, would this problem get worse?
The answer: Yes – it's getting worse, says Donald Murphey, MD, a pediatric infectious disease specialist at Dell Children's Medical Center in Austin. And while hospitals are not yet overwhelmed, the trends for flu, RSV, and COVID-19, among other respiratory viruses, all may be moving in a bad direction, threatening what some experts have dubbed a "tripledemic."
"The RSV rates have risen and are staying high. Influenza is still rising. And I'm concerned that COVID-19 may be starting to rise, and there are other viruses as well," said Dr. Murphey, a member of the Texas Medical Association's COVID-19 Task Force. "If you put all that together, there's a lot of respiratory illness in the community, and hospitals are busy, ICUs are busy. I don't think it's better."
In Texas, both influenza and RSV are high, according to surveillance data from the Texas Department of State Health Services (DSHS). COVID-19 cases have remained fairly flat and started to rise in late November.
But it's not just Texas. On Nov. 15, the American Academy of Pediatrics (AAP) and Children's Hospital Association called on the Biden administration to declare an emergency to address health care shortages and "support a national response to the alarming surge of pediatric respiratory illnesses."
"These flexibilities have been provided during COVID-19 and were critical during peaks in infections and ongoing fluctuations of the virus," AAP said in a letter to President Joe Biden and Health and Human Services Secretary Xavier Becerra. "Children's providers require the same capacity support as they strive to keep up with increasing needs of infants, children, and adolescents."
So far, the Biden administration has offered assistance to communities dealing with a surge in flu and RSV cases but has declined to declare a nationwide emergency.
Federal health officials also have told the public to expect a rise in COVID-19 cases as winter intensifies and people move indoors more, though the impact may be less severe since many people have some immunity against the disease from vaccination or infection. Currently, about 63% of Texans six months and older are fully vaccinated, according to DSHS.
Whether it's heavy or light, the COVID case load will undoubtedly add to the already overcrowded conditions in Texas hospitals and clinics, says Dr. Murphey.
"I am talking with the ICU, and we are seeing hospitalized kids with COVID lung disease like we were seeing fairly often over six months ago and earlier in the pandemic," Dr. Murphey said. He added: "We are seeing more kids admitted with COVID who have a real long disease."
So far, the overcrowding is most severe in pediatric hospitals, says Dallas infectious disease specialist Trish Perl, MD, a professor of internal medicine at UT Southwestern Medical Center and member of TMA's COVID-19 Task Force. Some emergency departments have sent critically ill children out of state to free up beds in ICUs.
Last week, Texas pediatric hospital beds were 91% occupied, according to the U.S. Department of Health and Human Services.
Wait times to see physicians at both hospitals and physician offices remain long and appear to be getting longer, Dr. Perl says. So far, hospitals are not overwhelmed, but that could change as well. Thanksgiving and the upcoming year-end holidays are likely to worsen the spread of respiratory viruses.
"We've already got a lot of pressure on the health care system, and with everyone getting together [for the holidays], there is a nice melting pot for transmission," she said.
The problem is a combination of both high patient demand and shortage of staff, says Keller pediatrician Jason Terk, MD, chair of the Texas Public Health Coalition, which includes TMA.
"We get daily communications from our control center at our hospital about the number of patients who are admitted to the hospital but don't have beds to move to because the hospital is so busy," he said.
He added: "The difference between previous years and now is that, at times when we booked up, we had the ability to rely on urgent care facilities to be our pop-off valve, and we don't have that because they're severely compromised in their ability to staff up."
TMA recently formed the Ad Hoc Committee on Independent Physician Practice in part to help address the chronic staff shortages in health care. But for now, the problem must be addressed by bringing disease rates down, Dr. Terk says.
"There's no relief in sight on the staffing issue," he said.
There is good news for physicians about flu, Dr. Perl says. This year's vaccine appears to be a good match for protecting against the prevailing strains of flu. Encouraging vaccination for both influenza and COVID-19 would help ease the burden physicians and other health care professionals now face.
"Vaccination protects the individual, it protects the public and the health system, and ultimately it protects the economy," she said. "So, we've got to focus on prevention. … While some people are opposed to vaccines right now, which is really unfortunate, we have to reinforce their importance, impact, and effectiveness. For example, we can provide both the COVID-19 and flu shots together, one in each arm."
Other prevention measures will sound familiar to any health care professional: wear masks, maintain social distancing, stay home if you are sick, keep hands and surfaces clean, and use well-ventilated spaces, Dr. Perl says.
"There's nothing magical about what we need to do," she said. "We just need to integrate all this into how we do things moving forward."
Hospitals are resuming universal masking requirements in patient care areas.
Date:                     December 15, 2022
Subject:                MHS and COVID Updates
To:                         Methodist Healthcare Medical Staff
From:                    Paul Hancock, MD, Chief Medical Officer
Please note the following important MHS updates:
COVID Update
MHS has 61 COVID positive patients under our care including 15 COVID patients in the ICU and 4 on ventilators.
Important Update:  MHS COVID Personal Protective Equipment (PPE) Guidance
Bexar and Comal Counties – HIGH Transmission has been sustained for an additional week, and transmission is increasing.  Patient care facilities in Bexar and Comal Counties must resume universal masking in areas patients are encountered by Friday, December 16th.
The Washington Post (12/15, A1, Cha) reports "the 2022 winter season has been one of prolonged misery for many American families, full of sniffles, sore throats, coughs and trips to the" emergency department "as bugs kept at bay during the pandemic have been unleashed by the resumption of our old lives." Amid early surges in influenza, respiratory syncytial virus, "the rebounding coronavirus," and other respiratory illnesses, physicians "agree the overlapping viral surges and how they are playing out are unusual and concerning." For example, people are battling "back-to-back respiratory illnesses," a "simultaneous infection with three or more viruses," and "otherwise healthy people" are "suffering for weeks, rather than days, with simple cold
NOW HERE IS THE TRAVEL MEDICAL ADVICE:
'Tis the Season to Travel Safely
Whether you're seeking a winter wonderland or a tropical getaway, follow these tips to prep for a safe and healthy holiday trip.
Check CDC's destinations page to see what vaccines or medicines you may need and what diseases or health risks are a concern at your destination.
Make sure you are up to date with your COVID-19 vaccines and all your routine vaccines. You should also get a seasonal flu vaccine. Getting vaccinated is the best way to protect yourself and your loved ones.
Prepare a travel health kit with items you may need, including your prescriptions and over-the-counter medicines. You may also want to pack insect repellent, sunscreen, hand sanitizer, and your health insurance card.
Help Keep COVID-19 Grounded This Holiday Season
Travelers can easily and quickly spread diseases from one place to another. CDC launched the Traveler Genomic Surveillance (TGS) program to track and detect new variants of the virus that causes COVID-19 among international air travelers arriving in select U.S. airports. As part of the TGS program, arriving international travelers can help track variants by volunteering to get a nasal swab. Volunteers also receive a free take-home COVID-19 test kit.
The TGS program currently has sites in 5 major U.S. international airports:

John F. Kennedy International in New York City
Newark Liberty International
San Francisco International
Hartsfield-Jackson International in Atlanta
Washington Dulles International
The next time you travel through one of these airports, stop by the TGS booth, volunteer to participate, and receive a free COVID-19 at-home test kit for your time contributing to public health.
Holiday Travel Tips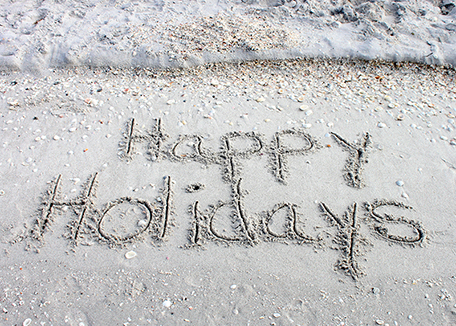 Holiday travel often includes visiting loved ones or taking a vacation. Whether you're seeking a winter wonderland or escaping subzero temperatures, follow these travel tips for a healthy and safe holiday travel season.
Before Travel Tips
Check CDC's destination pages for travel health information. Check CDC's webpage for your destination to see what vaccines or medicines you may need and what diseases or health risks are a concern at your destination.
Make sure you are up-to-date on all of your routine vaccines. Routine vaccinations protect you from infectious diseases such as measles that can spread quickly in groups of unvaccinated people. Many diseases prevented by routine vaccination are not common in the United States but are still common in other countries.
Get up to date with your COVID-19 vaccines and get a seasonal flu vaccine. In the United States, CDC recommends getting a flu vaccine before the end of October
Prepare a travel health kit with items you may need, especially those items that may be difficult to find at your destination. Include your prescriptions and over-the-counter medicines in your travel health kit and take enough to last your entire trip, plus extra in case of travel delays. Depending on your destination you may also want to pack insect repellent, sunscreen (SPF15 or higher), aloe, alcohol-based hand sanitizer, water disinfection tablets, and your health insurance card.
During Your Trip
Choose safe transportation. Always wear a seat belt, and children should ride in car seats. Motor vehicle crashes are the leading cause of death among healthy travelers. Be alert when crossing the street, especially in countries where people drive on the left side of the road. Find out other steps you can take to stay safe on the roads.
Protect yourself from the sun. Apply sunscreen with SPF 15 or higher when traveling. Protecting yourself from the sun isn't just for tropical beaches—you can get a sunburn even if it's cloudy or cold. You are at the highest risk for UV exposure when you are traveling during summer months, near the equator, at high altitudes, or between 10 am to 4 pm.
When traveling in cold weather or climates, wear warm clothing in several loose layers.
Consideration for Warm Weather Travel
If you are traveling in hot weather or in a hot climate, wear loose, lightweight, light-colored clothing.
Your chances of getting heat stroke, heat exhaustion, or other heat-related illness during travel depend on your destination, activities, level of hydration, and age. Travelers who relax on a beach or by a pool are unlikely to get heat-related illness. Learn how to prevent heat-related illness.
Avoid bug bites. Use insect repellent and take other steps to avoid bug bites. Bugs, including mosquitoes, ticks, fleas, and flies, can spread diseases such as malaria, yellow fever, Zika, dengue, chikungunya, and Lyme. These bugs are typically more active during warm weather.
HAVE A SAFE AND HAPPY HOLIDAY!!