I don't have any new tips on getting the vaccine, but one positive development is that those patients who received their vaccinations today at the Alamodome  received follow up appointments for their second dose.  Patients who did receive them Monday and Tuesday will be contacted.
Johnson and Johnson's vaccine showed promising results in a study published  today in the New England Journal of Medicine.  This is a summary from Journal Watch followed by the abstract from today's Journal. The results of a clinical study to show it's efficacy will be released at the end of the month.  If those results are positive, it will be considered  by the FDA for Emergency Use Authorization.
By Kelly Young
Edited by Susan Sadoughi, MD, and Richard Saitz, MD, MPH, FACP, DFASAM
A single dose of Johnson & Johnson's Ad26.COV2.S vaccine appears to be safe and induce an immune response in two age groups, according to interim results of a phase 1-2a trial published in the New England Journal of Medicine.
A total of 800 adults aged 18 to 55 or aged 65 and up were randomized to various combinations of low-dose or high-dose vaccines or placebo, given 56 days apart.
Adverse events were common, with fatigue, headache, myalgia, and injection-site pain reported most often. At day 29 after the first dose, the seroconversion rate was 99% or more in the younger cohort across dosing groups. Older vaccine recipients had a 96% seroconversion rate. At 57 days after the first dose, antibody titers had increased further.
Interim Results of a Phase 1–2a Trial of Ad26.COV2.S Covid-19 Vaccine
List of authors.
Jerald Sadoff, M.D.,
Mathieu Le Gars, Ph.D.,
Georgi Shukarev, M.D.,
Dirk Heerwegh, Ph.D.,
Carla Truyers, Ph.D.,
Anne M. de Groot, Ph.D.,
Jeroen Stoop, Ph.D.,
Sarah Tete, Ph.D.,
Wim Van Damme, M.D.,
Isabel Leroux-Roels, M.D.,
Pieter-Jan Berghmans, M.D.,
Murray Kimmel, D.O.,
Abstract
BACKGROUND
Efficacious vaccines are urgently needed to contain the ongoing coronavirus disease 2019 (Covid-19) pandemic of infection with severe acute respiratory syndrome coronavirus 2 (SARS-CoV-2). A candidate vaccine, Ad26.COV2.S, is a recombinant, replication-incompetent adenovirus serotype 26 (Ad26) vector encoding a full-length and stabilized SARS-CoV-2 spike protein.
METHODS
In this multicenter, placebo-controlled, phase 1–2a trial, we randomly assigned healthy adults between the ages of 18 and 55 years (cohort 1) and those 65 years of age or older (cohort 3) to receive the Ad26.COV2.S vaccine at a dose of 5×1010 viral particles (low dose) or 1×1011 viral particles (high dose) per milliliter or placebo in a single-dose or two-dose schedule. Longer-term data comparing a single-dose regimen with a two-dose regimen are being collected in cohort 2; those results are not reported here. The primary end points were the safety and reactogenicity of each dose schedule.
RESULTS
After the administration of the first vaccine dose in 805 participants in cohorts 1 and 3 and after the second dose in cohort 1, the most frequent solicited adverse events were fatigue, headache, myalgia, and injection-site pain. The most frequent systemic adverse event was fever. Systemic adverse events were less common in cohort 3 than in cohort 1 and in those who received the low vaccine dose than in those who received the high dose. Reactogenicity was lower after the second dose. Neutralizing-antibody titers against wild-type virus were detected in 90% or more of all participants on day 29 after the first vaccine dose (geometric mean titer [GMT], 224 to 354) and reached 100% by day 57 with a further increase in titers (GMT, 288 to 488), regardless of vaccine dose or age group. Titers remained stable until at least day 71. A second dose provided an increase in the titer by a factor of 2.6 to 2.9 (GMT, 827 to 1266). Spike-binding antibody responses were similar to neutralizing-antibody responses. On day 14, CD4+ T-cell responses were detected in 76 to 83% of the participants in cohort 1 and in 60 to 67% of those in cohort 3, with a clear skewing toward type 1 helper T cells. CD8+ T-cell responses were robust overall but lower in cohort 3.
CONCLUSIONS
The safety and immunogenicity profiles of Ad26.COV2.S support further development of this vaccine candidate. (Funded by Johnson & Johnson and the Biomedical Advanced Research and Development Authority of the Department of Health and Human Services; COV1001 ClinicalTrials.gov number, NCT04436276. opens in new tab.)
MODERNA VACCINE RECEIVES FDA APPROVAL
This is a summary from The Medical Letter.  The vaccine had an Emergency Use Authorization, but now has FDA approval
The Medical Letter on Drugs and Therapeutics
FDA Authorizes Moderna COVID-19 Vaccine
January 25, 2021 (Issue: 1616)
On December 18, 2020, the FDA issued an Emergency Use Authorization (EUA) for the Moderna mRNA-based vaccine for prevention of COVID-19 in persons ≥18 years old. The Pfizer-BioNTech mRNA-based vaccine received an FDA EUA for the same indication in persons ≥16 years old on December 11, 2020.1
CLINICAL STUDY — Issuance of the EUA was based primarily on the results of an observer-blind trial in which 30,420 subjects ≥18 years old were randomized 1:1 to receive the Moderna vaccine or placebo at 0 and 4 weeks. Immunocompromised persons and those with a history of SARSCoV-2 infection were excluded. There were 11 cases of COVID-19 among subjects who received the vaccine and 185 cases among those who received placebo; the vaccine efficacy rate was 94.1%. In adults ≥65 years old, the vaccine efficacy rate was 86.4%. Severe COVID-19 occurred in 0 subjects who received the vaccine and in 30 of those who received placebo.2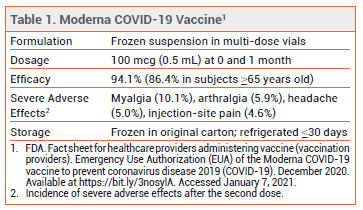 ADVERSE EFFECTS — Fatigue, chills, headache, muscle and joint pain, fever, nausea/vomiting, axillary swelling/tenderness, and injection-site pain, erythema and swelling were reported following administration of the vaccine. Adverse effects were more frequent and severe following the second dose.2
Cases of anaphylaxis and anaphylactoid reactions to the Moderna and Pfizer-BioNTech COVID-19 vaccines have been reported; a CDC analysis of adverse effects following administration of ~1.9 million first doses of the Pfizer-BioNTech vaccine found the rate of anaphylaxis to be 11.1 per million doses.3 Experts have theorized that polyethylene glycol (PEG), which is present in both vaccines, may be the cause of these reactions. Both vaccines are contraindicated for use in persons with a history of an immediate or severe allergic reaction to a previous dose of an mRNA vaccine or any of its components, including PEG, or a history of an immediate allergic reaction to polysorbate, which is structurally related to PEG. Appropriate medical treatment used to manage allergic reactions must be available for use following administration of an mRNA COVID-19 vaccine. Persons with any history of immediate allergic reaction to a vaccine or injectable therapy or any history of anaphylaxis should be observed for 30 minutes after vaccination; other persons should be observed for 15 minutes after vaccination.4
PREGNANCY AND LACTATION — Pregnant women with COVID-19 are at increased risk for morbidity and mortality. According to the FDA, data on the Moderna vaccine are insufficient to inform vaccine-associated risk in pregnancy. Data on the effects of the vaccine on the breastfed infant or on milk production are not available.5 The American College of Obstetricians and Gynecologists (ACOG) recommends that the vaccine not be withheld from pregnant or lactating women who are otherwise eligible for vaccination.6
STORAGE AND ADMINISTRATION — The Moderna vaccine is supplied in frozen multi-dose vials that contain ten 0.5-mL doses. The vials should be stored in the original carton at -25°C to -15°C. They should not be kept on dry ice. The vials can be stored in a standard refrigerator for ≤30 days prior to first use; doses cannot be refrozen once thawed. Prior to administration, frozen vaccine should be thawed in a refrigerator at 2-8°C for 2.5 hours or at room temperature (15°-25°C) for 1 hour. If refrigerated, vials should stand at room temperature for 15 minutes before vaccine administration.
Unpunctured vials can be stored at 8-25°C for up to 12 hours. After the first dose has been withdrawn, the vial should be kept at 2-25°C and discarded after 6 hours. The vaccine should be swirled gently after thawing and before each withdrawal, but should not be diluted or shaken.5
IMMUNIZATION PRIORITY — The CDC Advisory Committee on Immunization Practices (ACIP) recommends that healthcare personnel and long-term care facility residents be immunized first. Frontline essential workers and adults ≥75 years old are in the second priority group.7
The CDC has required state and local jurisdictions to develop vaccination plans for various phases of supply availability. Vaccines will generally be allocated to states and other jurisdictions based on population. State executives and health departments will be responsible for interpreting ACIP guidance and determining where the vaccine should be shipped and who should receive it.8