The map, though hard to read, is of the antiviral medications available in this area.  The two tiny purple dots are the locations for the only Paxlovid in the   San Antonio area.  It's the most effective oral anti-viral medication for Covid 19.  These two dots are SAMC and Willford Hall.  None is available at the moment for nonmilitary personnel.
The other effective Covid 19 therapy, the monoclonal antibody sotrovimab, is also in short supply.  I have had 3 patients scheduled to receive infusions in the last several days have their infusions cancelled.  One of them was a transplant patient.  Clearly, if any is available, it is being given to only those with the highest risk of progression to severe Covid.
The following is an article from the TMA dealing with the subject.
 Effective COVID Therapies Still in Short Supply in Texas
By Joey Berlin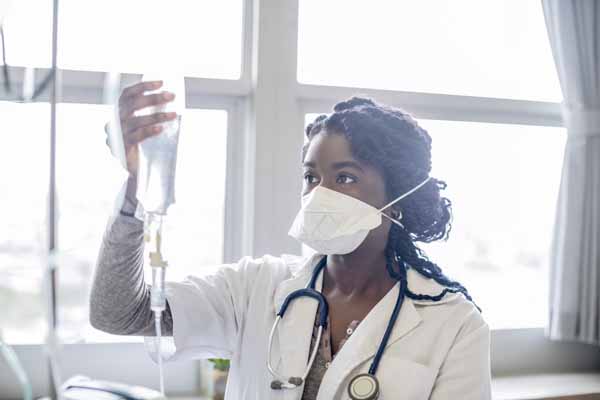 Slowly but surely, medicine is learning which COVID-19 therapeutics work best in general, which are effective against the now-dominant omicron variant, and which ones appear no match for omicron.
Unfortunately, "slow" also describes the supply movement of the most effective drugs. And even properly administering what appear to be the right therapies is tricky, with drug interactions and certain conditions – like pregnancy – entering into what otherwise might be a straightforward equation.
Whether it's the recently approved combo oral medication Paxlovid, or the IV antiviral remdesivir that's been a long-standing treatment since the early days of the pandemic, effective outpatient COVID-19 therapies are hard to find in Texas right now, says San Antonio infectious disease specialist Jan Patterson, MD, a member of the Texas Medical Association's COVID-19 Task Force.
For instance, take Paxlovid (nirmatrelvir with ritonavir), which the National Institutes of Health (NIH) recently identified as its most preferred therapeutic to treat nonhospitalized COVID-19 patients at high risk of progressing to severe disease. A drug trial cited by NIH showed Paxlovid reduced the risk of hospitalization or death by 88%.
"I'm looking right now in the San Antonio area: There's 124 courses of therapy [available]," Dr. Patterson said in a Jan. 19 interview with Texas Medicine Today while perusing the state's COVID-19 therapeutics availability resources. "Considering how many people are sick, that's not that much."
Second and third on NIH's preference list are the IV monoclonal antibody infusion sotrovimab and IV remdesivir, followed by the Merck oral medication molnupiravir, approved in December one day after Paxlovid.
Both remdesivir and sotrovimab – which Dr. Patterson says is the only antibody that has thus far proven effective against omicron – are scarce as well.
Lara Anton, a spokesperson for the Texas Department of State Health Services (DSHS), told Texas Medicine Today in a Jan. 20 email that the state has been getting "small weekly allocations" of monoclonal antibodies from the federal government since mid-December. Before that, the state was getting its allocations every two weeks.
"Texas will receive 3,648 courses of sotrovimab for this week," Ms. Anton said. "DSHS received requests for more than 35,000 courses from providers last week. Our understanding is that manufacturing constraints are the reason for the limited supply of sotrovimab. We are still receiving allocations of the other monoclonal antibodies but the demand for them is much lower, and we have directed providers to administer it only to cases that have lab evidence indicating it is not the omicron variant."
The state is receiving biweekly allocations of Paxlovid and molnupiravir, the two oral medications, Ms. Anton added: "DSHS has been allocating them to both chain and independent pharmacies across the state and to some FQHCs [federally qualified health centers]. These DSHS-allocated oral antiviral medications are shipped directly to pharmacies in 83 counties. The federal government is also shipping the oral antiviral medications to some FQHCs" and some other sites funded by the federal Health Resources and Services Administration.
DSHS also wants physicians to educate themselves on one other monoclonal antibody, evusheld, which has emergency approval as a preexposure prophylaxis for COVID-19 for immunocompromised patients who aren't expected to mount an immune response to vaccines for the virus.
But even when physicians can get their hands on any of these drugs, other considerations may preclude giving them to patients otherwise in need.
"Paxlovid, even though it does have good efficacy, has the ritonavir in it, which has a lot of drug interactions," Dr. Patterson said. "[For some] patients on certain medications that are very affected by the ritonavir, [Paxlovid] may not be the best choice for them, because it could either really lower or really raise dangerously the levels of their medications.
"This is true, for instance, for most transplant patients. Many of them are on medicine that interacts with ritonavir, which makes Paxlovid not a good choice for them, even though they're some of the patients most at risk."
Molnupiravir – fourth in the NIH order of preference with a 30% reduction in hospitalization or death in an NIH-cited clinical trial – also can't be administered to pregnant women due to concerns about mutations, Dr. Patterson says.
"One of the things about the antivirals, like Paxlovid and molnupiravir and remdesivir, is they have to be given early, within a few days of symptoms," Dr. Patterson said. "Because if they're given later, [patients are] already in the inflammatory phase, and the antiviral doesn't help them that much.
"It's nice to have some options, but the problem is that [antivirals are] not really readily available right now. It depends on what's available in the pharmacies in your area."
Last Updated On
January 24, 2022