Summer newsletter 2021
Dear Patients:
What a difference a year makes.  Needless to say, we are breathing a little easier than we were this time last year.  A few months ago, the entire staff (all five of us) went to a happy hour on the rooftop bar of the Fairmont Hotel to celebrate having stayed safe for a year. We reflected on buying safety goggles at Home Depot to wear when swabbing patients at curbside for Covid testing because medical shields were in short supply. We had a lot of improvisations to make as personal protective equipment was in short supply even at exorbitant prices.  Glove prices tripled for example.  For those who are doubtful of the efficacy of masks, we swabbed hundreds of patients (the majority of whom had negative results) and did not get sick.
Vaccines have certainly been a game changer.  We would ask the state for them weekly only to be declined.  It was frustrating not being able to administer the vaccines or even know who had the vaccine and be able to advise our patients.  Months later, the State Department of Health Services sent us 100 doses of Moderna that we hadn't requested.  We had to send them back because we didn't have enough unvaccinated patients to utilize that many doses. We had requested the J and J vaccine thinking that it would be the best for our clinic due to it's favorable storage requirements.  As it turned out, it is the least plentiful and least effective vaccine with rare, but serious side effects.  Now with the widespread availability of vaccines, it doesn't make sense for us to request any.  If you have 5 people in need of vaccine, the state will actually send someone to your home to give it.  All you have to do is call 844-90-TEXAS and select Option 3 to schedule an appointment. You can walk into an HEB without an appointment and get vaccinated.
While we are cautiously optimistic, we are wary of letting our guards down because of the emergence of more infectious and more lethal variants.  We continue to follow national guidelines which recommend continuing to wear masks in physicians' offices and hospitals.  I still wear a mask outside the office when I am in close proximity to people whose vaccination status is unknown.
For the skeptics who aren't sure of the vaccine's safety, I say that these are the most carefully scrutinized vaccines in the history of the world.  Millions of the vaccines have been given with careful follow up from the Vaccine Adverse Events Reporting System (VAERS) Vaccine Adverse Event Reporting System (VAERS) (hhs.gov).  96% OF PRACTICING PHYSICIANS HAVE BEEN VACCINATED.
On February 28,2020, I posted my first blog post on my Corona Commentary on our website.  Little did I know that there would be 193 posts after that as of today!
PLEASE EMAIL US A PHOTO OF YOUR COVID VACCINE CARD TO nurse@markthorntonmd.com, IF YOU HAVEN'T ALREADY.
SUMMER ADVICE:
Many people are looking forward to travel after a long hiatus.  How does one do it safely? Here is a helpful travel guide on traveling safely from the CDC.  Domestic Travel During COVID-19 | CDC
International Travel During COVID-19 | CDC
Please note: The Covid-19 test that we do for diagnostic purposes may not meet the standard for some countries.  Most of our patients use an urgent care clinic like Texas Med Clinic or Impact Medical Care prior to travel.
With the recent rains the mosquitoes have flourished.  While no West Nile Virus has yet been reported, that is a concern as the warm months continue.  There are also insect borne diseases that may be encountered when traveling.  The following is a reprint of The Medical Letter's review article on insect repellants:
Insect Repellants
Med Letter Drugs and Therapeutics
2019 Aug 26;61(1579):129-32
Summary: Insect Repellents
DEET is highly effective against mosquito and tick bites and is generally safe.
Picaridin appears to be as effective against mosquitoes as equivalent concentrations of DEET and may be better tolerated on the skin. It also repels ticks.
IR3535 at concentrations ≥10% and oil of lemon eucalyptus (OLE) can also be effective in repelling mosquitoes and ticks.
Published data on the efficacy of 2-undecanone are limited.
Citronella oil-based insect repellents provide short-term protection against mosquitoes, but not ticks. Other essential oils provide limited and variable protection against mosquitoes.
Wearing clothing treated with the insecticide permethrin in addition to using DEET or picaridin on exposed skin may provide the best protection against mosquitoes and ticks.
Wearable devices such as wristbands are not effective.
Use of insect repellents is strongly recommended by the Centers for Disease Control and Prevention (CDC) and the Environmental Protection Agency (EPA) to prevent infections transmitted by mosquitoes and ticks. Insect repellents applied to exposed skin should be used in conjunction with other preventive measures such as wearing pants and long-sleeved shirts, and avoiding outdoor activities during peak mosquito-biting times.1 Mosquitoes can transmit Zika, chikungunya, dengue, West Nile, eastern equine encephalitis, and yellow fever viruses, as well as malaria. Ticks can transmit Lyme disease, rickettsial diseases such as Rocky Mountain spotted fever, and viruses such as Powassan virus.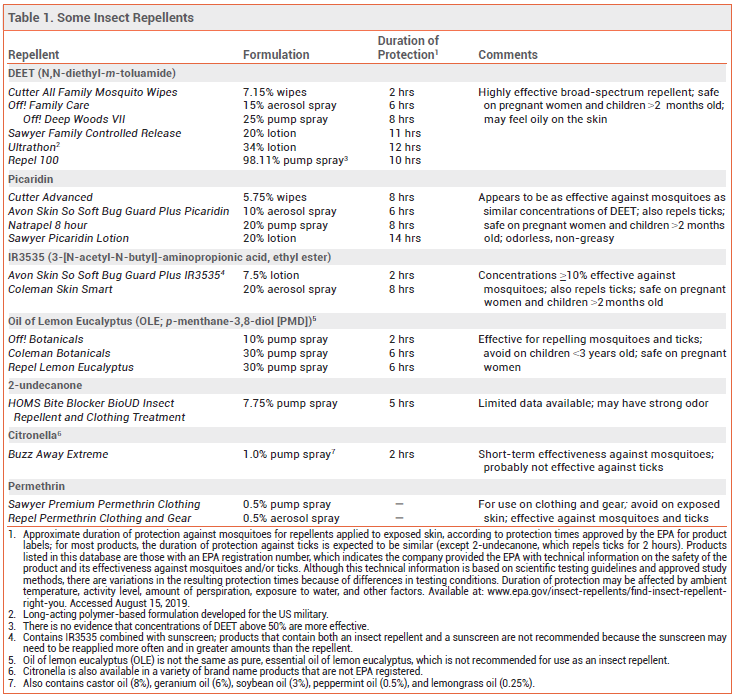 DEET — The topical insect repellent N,N-diethyl-m-toluamide (DEET) is highly effective against mosquito and tick bites.2 It also repels chiggers, fleas, gnats, and some flies. DEET is available in concentrations of 5-99%; higher concentrations typically provide longer-lasting protection,3 but increasing the concentration above 50% has not been shown to improve efficacy.
Long-acting polymer-based or liposomal DEET formulations containing concentrations of 30-34% have been shown to protect against mosquitoes for up to 12 hours. The CDC recommends using concentrations ≥20% in adults for protection against both mosquitoes and ticks.
Reviews of the safety and toxicity of topically applied DEET indicate that it is generally safe.2,4 Toxic and allergic reactions to DEET have been uncommon, and serious adverse effects are rare.4 Rashes ranging from mild irritation to urticaria and bullous eruptions have been reported. Patients find that some DEET formulations feel uncomfortably oily or sticky on their skin. DEET can damage clothing made from synthetic fibers and plastics on eyeglass frames and watches.
Children – The American Academy of Pediatrics recommends using DEET formulations containing concentrations of 10-30% on children and infants >2 months old. Neurologic adverse events have occurred in infants and children, usually with prolonged or excessive use that sometimes included ingestion of the product.
picaridin-based insect repellents resulted in only minor toxicity (mild oral or skin irritation, mild GI symptoms) that did not require referral to a healthcare facility.7
Children – The American Academy of Pediatrics recommends formulations of picaridin containing concentrations of 5-10% for use on children as an alternative to DEET.
IR3535 — IR3535 (3-[N-Butyl-N-acetyl]-amino-propionic acid, ethyl ester), a synthetic version of β-alanine, repels mosquitoes, deer ticks, and flies. It is available in concentrations of 7.5% and 20% in the US (see Table 1). Concentrations ≥10% have been found to be effective against mosquito bites for several hours.8 Two studies found the 7.5% concentration to be ineffective.3,9 IR3535 can cause eye irritation, and it may damage clothing and plastics.
Children – According to the EPA, IR3535 is safe for use on children >2 months old.
OIL OF LEMON EUCALYPTUS — Oil of lemon eucalyptus (OLE; p-menthane-3,8-diol [PMD]), which repels mosquitoes, ticks, flies, gnats, and biting midges, occurs naturally in the lemon eucalyptus plant.2 It is chemically synthesized for commercial use as a repellent. In field studies against malaria-transmitting mosquitoes, OLE provided up to 6 hours of protection against mosquito bites.8 It has demonstrated efficacy equivalent to that of DEET against mosquitoes in some laboratory and field studies.10 OLE can cause eye and skin irritation, including allergic skin reactions.11
Children – OLE products are not recommended for use on children <3 years old.
2-UNDECANONE — A relatively new insect repellent, 2-undecanone is derived from the wild tomato plant.12 A synthetic version is commercially available in a 7.75% spray formulation (BioUD). Published data on the efficacy of 2-undecanone are limited.2 According to the product label, BioUD is effective for up to 4.5 hours against mosquitoes and up to 2 hours against ticks. It can have a strong odor.
CITRONELLA — Citronella oil-based insect repellents provide short-term protection against mosquitoes, but they are probably not effective against ticks. In laboratory studies, various concentrations of citronella oil were less effective than DEET against mosquito bites in duration of protection.13 The protection times for most citronella oil products are 2 hours or less, and they can cause skin irritation.
OTHER ESSENTIAL OILS — Essential oils obtained from raw botanical material, including clove, geraniol, catnip, and patchouli, provide limited and variable protection against mosquitoes. High concentrations can be irritating to the skin.14,15
SUNSCREENS AND INSECT REPELLENTS — Topical insect repellents can be used with sunscreens; the repellent should be applied after the sunscreen. Applying DEET after sunscreen has been shown to reduce the sun protection factor (SPF) of the sunscreen, but applying sunscreen after DEET may increase absorption of DEET. The CDC does not recommend use of products that combine a sunscreen with an insect repellent because the sunscreen may need to be reapplied more often and in greater amounts than the repellent.
PERMETHRIN — A synthetic pyrethroid contact insecticide, permethrin can be sprayed on clothing, mosquito nets, tents, and sleeping bags to repel and kill mosquitoes and ticks. Permethrin-impregnated clothing is available commercially; it remains active for several weeks through multiple launderings with minimal transfer to the skin.16 An indoor laboratory study found that subjects wearing permethrin-treated sneakers and socks were 73.6 times less likely to be bitten by a tick than those wearing untreated footwear.17 Studies in outdoor workers in North Carolina wearing uniforms treated with a long-lasting formulation of permethrin using a commercially available factory-based method found that the clothing protected against mosquito and tick bites for at least 1 year.18,19 No significant adverse effects have been reported from wearing permethrin-treated clothing.11
WEARABLE DEVICES — Several insect repellents, including DEET, OLE, and citronella, are commercially available in wearable devices such as wristbands. These devices are not effective.20,21
PREGNANCY — The CDC considers EPA-registered formulations of DEET, picaridin, IR3535, OLE, and 2-undecanone safe for use during pregnancy.22 According to the EPA, there is no evidence that exposure to permethrin results in adverse effects in pregnant or nursing women or developmental adverse effects in their children.23 In its Zika virus prevention guidelines, the American College of Obstetricians and Gynecologists recommended that pregnant women traveling to areas where Zika has been reported use an EPA-registered DEET product and permethrin-treated clothing, cover exposed skin, and stay in air-conditioned or indoor areas.24,25
REFERENCES
Getting Lab Results Through Quest
One of the things that we did during the pandemic was to upgrade our patient portal.  Portals became popular after the crash of 2009.  As part of the economic stimulus physicians were given money for electronic health records which include patient portals (We did not receive any). The idea was to engage the patient in their health by giving them access to their records.  Unfortunately, that was never proven to be true and the systems did not communicate with each other.  Nevertheless, physicians were given financial incentives, positive and negative to get a percentage of their patients to use them. After spending a lot of time and effort, the feedback that we received from staff and patients was that it was too cumbersome.  What patients really wanted access to was their lab test results. That is more easily done the way many of our patients have been doing it, by using a Quest app to access their results via their computers and smart phones.
https://myquest.questdiagnostics.com/web/home
Remember that even if you are out of town you can still have a virtual appointment.  Telemedicine is one of the few benefits that came about because of the pandemic.
Have a safe and fun summer!
Mark Thornton, M.D., F.A.C.P.