Every year 6,000 to 10,000 older adults die of Respiratory Syncytial Virus.https://www.cdc.gov/rsv/high-risk/older-adults.html   Most people associate this with a disease of children, but it also affects adults.  When you get RSV you usually cough for 3 weeks. One of my patients said he would much rather have Covid 19 than RSV.  There is now a new vaccine that can reduce the risk of getting it.  Protection is only temporary and there is talk about making a vaccine with flu and Covid 19 to take on an annual basis.
Federal Health Officials To Promote Vaccination Against Influenza, RSV, COVID-19 To Prevent "Tripledemic"
The New York Times (7/5, Mandavilli) reports that federal health officials, in order to prevent another "tripledemic" of respiratory illnesses, will encourage people to get vaccinated against influenza, RSV, and COVID-19. There remain, however, "uncertainties about how the vaccines are best administered, who is most likely to benefit, and what the risks may be." Additionally, "it's unclear how many Americans will opt for the shots," with survey data showing "some 71 percent of adults ages 65 and older got a flu shot this past winter, but only about 43 percent chose to get the Covid booster."
Here is some information from Journal Watch, a publication of The New England Journal of Medicine.
July 20, 2023
RSV Vaccines for Older Adults
Two newly approved vaccines for adults 60 or older should be available in autumn 2023.
Respiratory syncytial virus (RSV) causes devastating infections among infants and older people. Until now, the illness was not vaccine-preventable in either age group. In fall 2023, though, clinicians should be able to choose between two single-dose RSV vaccines for older adults.
Glaxo's Arexvy vaccine was U.S. FDA approved in May 2023, based largely on an interim analysis of an international phase 3 trial in about 25,000 older adults (age, ≥60). The vaccine showed ≈70% protective efficacy against all infections, ≈80% efficacy against lower respiratory tract infections (LTRIs), and almost 95% efficacy against severe LRTIs. Few very frail individuals or people older than 80 were enrolled, so efficacy in these high-risk subgroups could not be estimated. No serious vaccine-related events were reported in this analysis, but one case of Guillain-Barré syndrome (GBS) and two cases of encephalomyelitis occurred after vaccination in other studies (NEJM JW Infect Dis Feb 22 2023 [e-pub] and N Engl J Med 2023; 388:595, 609).
Pfizer's Abrysvo, also FDA approved in May, performed very similarly in an interim analysis of a large international trial. Vaccine efficacy ranged from ≈60% against any RSV respiratory illness to ≈90% against the most severely symptomatic LTRIs. This trial also did not include enough very high−risk adults to estimate efficacy among them. One case of GBS and one case of Miller-Fisher syndrome (a subset of GBS) were reported after vaccination (NEJM JW Infect Dis May 17 2023 [e-pub] and N Engl J Med 2023; 388:1465). A different trial of this product, given to women in their third trimester of pregnancy, established its efficacy in preventing severe neonatal RSV infections, but the drug is not yet approved for this purpose (NEJM JW Infect Dis May 17 2023 [e-pub] and N Engl J Med 2023; 388:1451).
The protective effects of both vaccines begin to wane after about 6 months (slides 11 and 12), so experts suggest timing vaccine administration to the beginning of the RSV season (generally late fall, although a bit of a moving target during recent COVID-19 pandemic years).
These vaccines represent a gigantic scientific achievement; still, they come to market with many important clinical questions unanswered. These uncertainties include their comparative efficacy, their efficacy in high-risk groups, and their efficacy when administered with other vaccines. Further, determining associated risk for GBS and other inflammatory neurological sequelae awaits large-scale postmarketing data.
How should clinicians proceed? The U.S. Centers for Disease Control suggests that they discuss RSV vaccination with all patients older than 60 and vaccinate after "shared decision making," taking an individual's preferences and specific risks into account. A single bright spot exists amidst all the uncertainty: RSV has received so much publicity in the last few years as part of the "trifecta" of bad winter infections, along with COVID-19 and influenza, that persuading high-risk individuals to accept RSV vaccination might be a little easier than it would have been in the past.
I will probably get this vaccine, but I would like to see more of the postmarketing surveillance  before I get it.  If you do decide to get it, I would avoid taking it with the flu vaccine for now until we have more information.
7/24/2023  And here is the latest from the CDC.
Even as the nation is faced with blistering heat waves this summer, Dr. Mandy Cohen, director of the Centers for Disease Control and Prevention, is already thinking ahead to cold and flu season this winter.
"We're going to have three bugs out there, three viruses: Covid, of course, flu and RSV," Cohen said in an interview. "We need to make sure the American people understand all three and what they can do to protect themselves."
Spread of all three respiratory viruses is currently low, but the CDC has begun to detect slight increases in positive Covid tests and Covid-related emergency department visits. And the decline in Covid hospitalizations has stalled.
Omicron XBB subvariants remain the most prevalent forms of Covid, though on Wednesday, the World Health Organization identified a new XBB version, the EG.5, as rising in prevalence around the world and in the U.S.
It's unclear what — if anything — the emergence of EG.5 means. The WHO noted there's no evidence that it causes more severe illness. Cohen said that so far, the virus remains susceptible to Covid shots.
For the first time this fall, the U.S. will have access to vaccines for another expected virus: respiratory syncytial virus, or RSV. Those shots, along with a new monoclonal antibody injection for babies and a third vaccine up for approval, have the potential to drastically reduce cases of the virus that typically hits infants and older adults hardest, experts say.
An unexpectedly severe surge of RSV infections in late 2022 overwhelmed children's hospitals with babies and young kids whose immune systems hadn't been exposed to the virus during lockdown.
On July 17, the Food and Drug Administration approved a monoclonal antibody injection to help prevent RSV for children up to age 2. Unlike a vaccine that prompts the body to make its own antibodies, the injection works by delivering antibodies against RSV directly into the bloodstream.
And as soon as next month, the FDA could approve the first RSV vaccine for pregnant women, who would then transfer those antibodies to their babies.
Two other RSV vaccines, for adults ages 60 and over, were approved earlier this year.
Timing Covid, flu and RSV vaccines
This means that many Americans will be urged to get three different vaccinations this fall: Covid, RSV and the annual flu shot. But that will be a challenge for the health care system, said Dr. William Schaffner, an infectious diseases expert and professor of preventive medicine at Vanderbilt University Medical Center.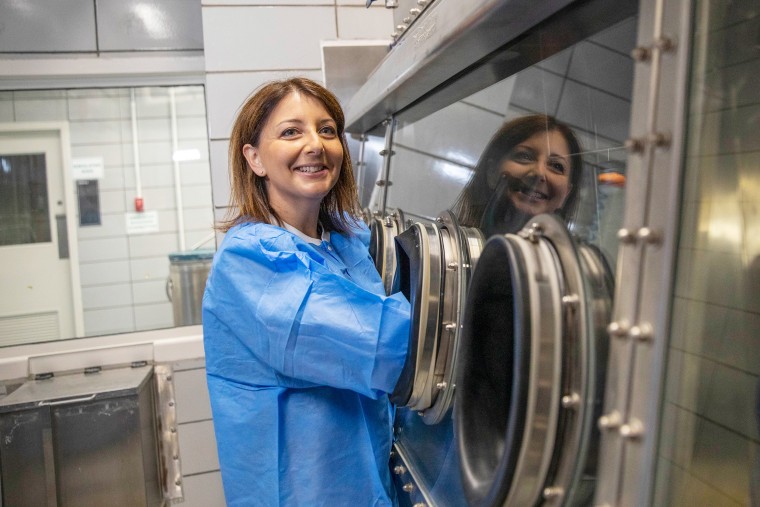 "We're going to have to learn how to deliver those vaccines in a way that's effective in actually reaching the population at a time when there's already vaccine fatigue," he said.
Some may be wary of getting three shots at once, a concern Schaffner echoed. Combining flu and Covid vaccines doesn't appear to reduce the effectiveness of either shot, but Schaffner said that there is limited data suggesting that adding the RSV shot to the mix lessens the response.
"I think most of us are going to recommend it's OK to get flu and Covid vaccines together, but wait a bit until you get the RSV" shot, he said.
Last year, flu season began unusually early — in October — and peaked quickly. There is no indication yet what the U.S. will face this year.
"Right now, they're having a pretty standard flu season in the Southern Hemisphere," Cohen said. "But it's still early days