The rain was welcome, there is nothing like it.  I hope we get more of it.  But after the rain come mosquitoes.  It is the time of year that I put out mosquito traps outside. They are available at Sunset and Co. in Sunset Ridge. Trap N Kill.  They were recommended by my friend, Dr. Robert Haley, the Chief of Epidemiology at UT Southwestern Medical  Center, who has written extensively on West Nile Virus. https://www.reuters.com/article/us-usa-health-westnile-texas-idINBRE88P1JN20120926
They help to reduce the risk of being bitten along with using a mosquito repellant.  It's a belt and suspenders plan.  This is important as Texas has already reported the first case of West Nile virus, a mosquito borne illness that is neuroinvasive. This is the report followed by the Medical Letter's summary on insect repellents and their effectiveness.
Texas Reports First West Nile Case of 2022
News Release
Apr. 12, 2022
Public health officials have confirmed the state's first case of illness caused by West Nile virus in 2022. Dallas County Health and Human Services reported that a resident of Dallas County has been diagnosed with West Nile neuroinvasive disease.
West Nile virus is transmitted through the bite of infected mosquitoes. Most people exposed to the virus don't get sick, but about 20 percent develop symptoms like headache, fever, muscle and joint aches, nausea and fatigue. In a very small proportion, less than one percent, the virus affects the nervous system, leading to the more serious West Nile neuroinvasive disease that can cause neck stiffness, disorientation, tremors, convulsions, paralysis and even death.
The Texas Department of State Health Services urges people to not give mosquitoes a biting chance by following these steps to protect themselves and their families from West Nile and other diseases spread by mosquitoes.
WEAR long sleeves and pants. Create a barrier to mosquito bites by covering up.
APPLY insect repellent. Use EPA-registered repellent such as those containing DEET, picaridin, IR3535, oil of lemon eucalyptus, para-menthane-diol or 2-undecanone.
REMOVE standing water. Emptying out water that accumulates in toys, tires, trash cans, buckets, clogged rain gutters and plant pots will deny mosquitoes a place to lay their eggs and reproduce.
People should also keep mosquitoes out of their homes by using air conditioning and making sure window and door screens are in good repair. DSHS urges people with West Nile symptoms to contact their health care provider and mention any exposure to mosquitoes.
There were 112 cases of West Nile disease in Texas last year and 14 deaths.* Over the last five years, Texas has had 547 cases and 61 deaths. Mosquitoes remain active in much of Texas into November and December.
* Cases and attributed deaths for 2021 are provisional.
The Medical Letter on Drugs and Therapeutics
July 12, 2021 (Issue: 1628)
Key Points: Insect Repellents
DEET is highly effective against mosquitoes and ticks and is generally safe.
Picaridin appears to be as effective against mosquitoes as equivalent concentrations of DEET and may be better tolerated on the skin. It also repels ticks.
IR3535 at concentrations ≥10% and oil of lemon eucalyptus (OLE or p-menthane-3,8-diol [PMD]) can also be effective in repelling mosquitoes and ticks.
2-undecanone repels mosquitoes and ticks; published data on its efficacy are limited.
Citronella oil-based insect repellents provide short-term protection against mosquitoes, but not ticks. Other essential oils also provide limited protection against mosquitoes.
Wearing clothing treated with the insecticide permethrin in addition to using DEET or picaridin on exposed skin may provide the best protection against mosquitoes and ticks.
Wearable devices such as wristbands and patches are not effective.
The Centers for Disease Control and Prevention (CDC) and the Environmental Protection Agency (EPA) recommend using insect repellents to prevent infections transmitted by mosquitoes and ticks. Insect repellents applied to exposed skin should be used in conjunction with other preventive measures such as wearing pants and long-sleeved shirts and avoiding outdoor activities during peak mosquito-biting times.1 Mosquitoes can transmit disease-causing pathogens, including Zika, chikungunya, dengue, West Nile, eastern equine encephalitis, and yellow fever viruses, and the malaria parasite. Ticks can transmit the bacteria that cause Lyme disease, the rickettsia that cause Rocky Mountain spotted fever, and viruses such as Powassan virus. Some insect repellents containing EPA-registered active ingredients are listed in Table 1.
DEET — The insect repellent N,N-diethyl-m-toluamide (DEET) is highly effective against mosquitoes and ticks.2 It also repels chiggers, fleas, gnats, and some flies. DEET is available in concentrations of 5-99%; higher concentrations typically provide longer-lasting protection,3 but increasing the concentration above 50% has not been shown to improve efficacy. Long-acting polymer-based or liposomal DEET formulations available in concentrations of 30-34% have been shown to repel mosquitoes for up to 12 hours.
Topically applied DEET is generally safe.2,4 Toxic and allergic reactions to DEET have been uncommon, and serious adverse effects are rare.4 Rashes ranging from mild irritation to urticaria and bullous eruptions have been reported. An analysis of data from a cohort study of a nationally representative sample of US adults found that there was no significant correlation between urinary levels of a DEET metabolite and health-related biomarkers of systemic inflammation or immune, liver, or kidney function.5
Some DEET formulations feel uncomfortably oily or sticky on the skin. DEET can damage clothing made from synthetic fibers and plastics on eyeglass frames and watches.
Children – The American Academy of Pediatrics recommends using products containing no more than 30% DEET on children and infants >2 months old. Neurologic adverse events have occurred in infants and children, usually with prolonged or excessive use that sometimes included ingestion of the product.
PICARIDIN — Picaridin provides protection against mosquitoes, ticks, flies, fleas, and chiggers. It is available in concentrations of 5-20%; higher concentrations typically provide longer-lasting protection.6 Picaridin appears to be at least as effective against mosquitoes as DEET at similar concentrations.7
Picaridin can cause skin and eye irritation, but it appears to be better tolerated on the skin than DEET. It is odorless, non-greasy, and does not damage fabric or plastic, although it can discolor leather and vinyl. In a review of data from US poison control centers, ingestion of picaridin-based insect repellents resulted in only minor toxicity (mainly ocular or oral irritation and vomiting) that did not require referral to a healthcare facility.8
Children – The American Academy of Pediatrics recommends using products containing up to 10% picaridin on children.
IR3535 — IR3535 (3-[N-butyl-N-acetyl]-aminopropionic acid, ethyl ester), a synthetic version of β-alanine, repels mosquitoes, deer ticks, and flies. It is available in concentrations of 7.5% and 20% in the US. Concentrations ≥10% have been found to be effective against mosquito bites for several hours.9 Two studies found that the 7.5% concentration provided limited protection (≤1 hour).3,10 IR3535 can cause eye irritation, and it can damage some clothing and plastics.2
Children – According to the EPA, IR3535 is safe for use on children >2 months old.
OIL OF LEMON EUCALYPTUS — Oil of lemon eucalyptus (OLE; p-menthane-3,8-diol [PMD]), which repels mosquitoes, ticks, flies, gnats, and biting midges, occurs naturally in the lemon eucalyptus tree.2 Extracted OLE is refined to increase the content of PMD, its active ingredient. (Synthetic PMD is also the active ingredient in some other commercially available insect repellent products.) In field studies against malaria-transmitting mosquitoes, OLE provided up to 6 hours of protection.9 It has been as effective as DEET against mosquitoes in some laboratory and field studies.11,12 OLE can cause eye and skin irritation, including allergic skin reactions.13
Children – OLE products are not recommended for use on children <3 years old because of a lack of safety data in this age group.
2-UNDECANONE — A relatively new insect repellent, 2-undecanone was originally derived from wild tomato plants. A synthetic version is commercially available in a 7.75% spray formulation (BioUD). Published data on the efficacy of 2-undecanone are limited. According to the product label, the spray repels mosquitoes for up to 5 hours and ticks for up to 2 hours. In laboratory studies, it has been comparable in efficacy to 7-15% concentrations of DEET.14 BioUD can be applied to skin, clothing, and outdoor gear. It may have a strong odor.
NOOTKATONE — A new active ingredient called nootkatone has been developed by the CDC in partnership with the company Evolva. It repels and kills ticks and mosquitoes, and was recently registered as a biopesticide by the EPA for use in insecticides and insect repellents.15 Nootkatone is a natural compound found in grapefruit and Alaska yellow cedar trees that has been used for many years to make perfumes and colognes and as a flavoring in foods. Nootkatone-based repellent products are expected to be commercially available in 2022.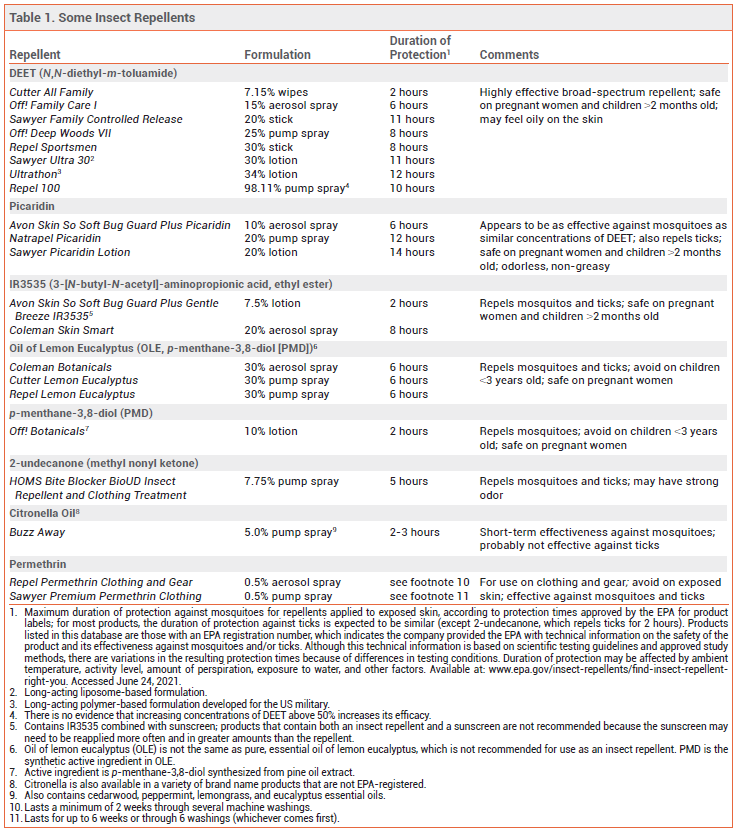 CITRONELLA — Citronella oil-based insect repellents provide short-term protection against mosquitoes, but they are probably not effective against ticks. In laboratory studies, mean protection time against mosquito bites was much shorter with citronella oil than with DEET.16 The duration of protection with most citronella oil products is ≤2 hours, and they can cause skin irritation.
OTHER ESSENTIAL OILS — Essential oils obtained from raw botanical material, including clove, geraniol, rosemary, and peppermint, provide limited and variable protection against mosquitoes. Five commercially available repellent sprays containing combinations of essential oils were tested in a controlled laboratory environment; mosquito attraction to humans was reduced for 30 minutes with four products and for 60 minutes with one.17 High concentrations can be irritating to the skin.18
FACTORS AFFECTING PROTECTION TIME — The actual duration of protection provided by a repellent depends on multiple factors, including the concentration of active ingredient in the formulation, the amount of repellent applied, the activity level of the user, and environmental conditions. Studies have shown that consumers apply doses of insect repellent that are generally much lower than those applied in laboratory tests of the duration of repellent efficacy. A product's effectiveness may also be reduced by evaporation from the skin surface and wash-off by sweat, and by rain, wind, and high temperatures.9,12
USE WITH SUNSCREENS — Topical insect repellents can be used with sunscreens; the repellent should be applied after the sunscreen. Applying DEET after sunscreen can reduce the sun protection factor (SPF) of the sunscreen, but applying sunscreen after DEET may increase absorption of DEET.19 Products that combine a sunscreen with an insect repellent are not recommended because the sunscreen may need to be reapplied more often and in greater amounts than the repellent.
PERMETHRIN — An 0.5% formulation of the synthetic pyrethroid contact insecticide permethrin can be sprayed on clothing and gear (e.g., mosquito nets, tents, and sleeping bags) to repel and kill mosquitoes and ticks. It should not be applied directly to skin. Permethrin-impregnated clothing that remains active through multiple launderings is commercially available. An indoor laboratory study found that subjects wearing permethrin-treated sneakers and socks were 73.6 times less likely to be bitten by a tick than those wearing untreated footwear.20 Studies in outdoor workers wearing factory-treated, long-lasting permethrin-impregnated clothing have found that the clothing protected against mosquito and tick bites for at least 1 year.21-23
Wearing permethrin-treated clothing results in dermal absorption, but the absorbed dosage of permethrin remains below EPA-recommended levels with up to 3 months of use24; no significant adverse effects have been reported.13,23 An analysis of urine samples from a nationally representative cohort of US adults found that persons with higher urinary levels of a pyrethroid metabolite (due to environmental exposure from ingestion, inhalation, and/or dermal absorption) had an increased risk of all-cause and cardiovascular disease mortality compared to those with lower urinary levels of the metabolite (HR 1.56 and 3.00, respectively).25
WEARABLE DEVICES — Several insect repellents, including DEET, OLE, and citronella, are commercially available in wearable devices such as wristbands and patches. These devices have been shown to provide little or no protection against mosquito bites.26,27
PREGNANCY — The CDC considers EPA-registered formulations of DEET, picaridin, IR3535, OLE, PMD, and 2-undecanone safe for use during pregnancy.28,29 According to the EPA, there is no evidence that exposure to permethrin results in adverse effects in pregnant or nursing women or developmental adverse effects in their children.30 The American College of Obstetricians and Gynecologists recommends that pregnant women traveling to areas where Zika has been reported use an EPA-registered insect repellent, cover untreated skin throughout the day and night, and stay in airconditioned locations as much as possible.31
© The Medical Letter, Inc. All Rights Reserved.