It's nice to give good news.  First of all, the new vaccines are better than the old ones.  Of course, if someone is not predisposed to take vaccines, this will fall on deaf ears.  This is the abstract of a study published in today's New England Journal of Medicine.  It shows that the Moderna bivalent covid vaccine produces higher neutralizing antibodies (these are the virus killing ones for which no commercial test is available) in immunized individuals than the previous booster.  Time will tell what impact that has on serious and mild infections, but previous studies have shown that they were effective in reducing them.
A Bivalent Omicron-Containing Booster Vaccine against Covid-19
List of authors.
Spyros Chalkias, M.D.,
Charles Harper, M.D.,
Keith Vrbicky, M.D.,
Stephen R. Walsh, M.D.,
Brandon Essink, M.D.,
Adam Brosz, M.D.,
Nichole McGhee, B.S.,
Joanne E. Tomassini, Ph.D.,
Xing Chen, Sc.D.,
Ying Chang, M.S.,
Andrea Sutherland, M.D., M.P.H.,
David C. Montefiori, Ph.D.,
Abstract
BACKGROUND
The safety and immunogenicity of the bivalent omicron-containing mRNA-1273.214 booster vaccine are not known.
METHODS
In this ongoing, phase 2–3 study, we compared the 50-μg bivalent vaccine mRNA-1273.214 (25 μg each of ancestral Wuhan-Hu-1 and omicron B.1.1.529 [BA.1] spike messenger RNAs) with the previously authorized 50-μg mRNA-1273 booster. We administered mRNA-1273.214 or mRNA-1273 as a second booster in adults who had previously received a two-dose (100-μg) primary series and first booster (50-μg) dose of mRNA-1273 (≥3 months earlier). The primary objectives were to assess the safety, reactogenicity, and immunogenicity of mRNA-1273.214 at 28 days after the booster dose.
RESULTS
Interim results are presented. Sequential groups of participants received 50 μg of mRNA-1273.214 (437 participants) or mRNA-1273 (377 participants) as a second booster dose. The median time between the first and second boosters was similar for mRNA-1273.214 (136 days) and mRNA-1273 (134 days). In participants with no previous severe acute respiratory syndrome coronavirus 2 (SARS-CoV-2) infection, the geometric mean titers of neutralizing antibodies against the omicron BA.1 variant were 2372.4 (95% confidence interval [CI], 2070.6 to 2718.2) after receipt of the mRNA-1273.214 booster and 1473.5 (95% CI, 1270.8 to 1708.4) after receipt of the mRNA-1273 booster. In addition, 50-μg mRNA-1273.214 and 50-μg mRNA-1273 elicited geometric mean titers of 727.4 (95% CI, 632.8 to 836.1) and 492.1 (95% CI, 431.1 to 561.9), respectively, against omicron BA.4 and BA.5 (BA.4/5), and the mRNA-1273.214 booster also elicited higher binding antibody responses against multiple other variants (alpha, beta, gamma, and delta) than the mRNA-1273 booster. Safety and reactogenicity were similar with the two booster vaccines. Vaccine effectiveness was not assessed in this study; in an exploratory analysis, SARS-CoV-2 infection occurred in 11 participants after the mRNA-1273.214 booster and in 9 participants after the mRNA-1273 booster.
CONCLUSIONS
The bivalent omicron-containing vaccine mRNA-1273.214 elicited neutralizing antibody responses against omicron that were superior to those with mRNA-1273, without evident safety concerns. (Funded by Moderna; ClinicalTrials.gov number, NCT04927065. opens in new tab.)
Houston's COVID wastewater levels drop to lowest mark in 6 months, putting BA.5 wave in rear view
Texas Medical Center data published Tuesday shows the viral load in the wastewater is 71 percent of what was detected in July 2020.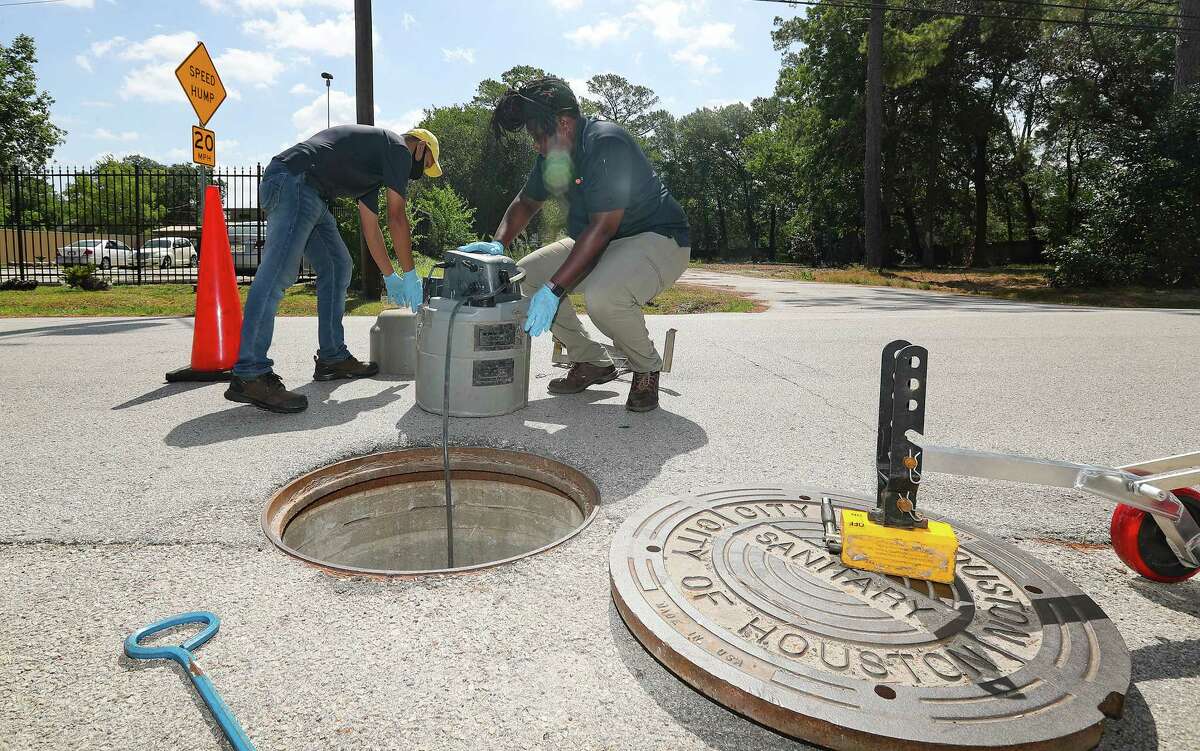 1of3Houston Health Dept., employees Muhammad Farhad, left, and Kendra Davis prepare to put back the sampler after collecting water samples on Wednesday, July 20, 2022 in Houston.Elizabeth Conley/Staff photographer
The COVID-19 viral load in Houston's wastewater has sunk to its lowest point in six months as the city puts the latest wave, driven by the highly contagious omicron subvariant BA.5, in the rear view.
The wastewater levels are 71 percent of what the Houston Health Department detected during the July 2020 wave, which the city uses as a benchmark, according to Texas Medical Center data published Tuesday. The viral load was nearly 900 percent of the baseline in July. The COVID hospitalization rate and positivity rate also continue to decline steadily.
SO, GET A BIVALENT COVID 19 BOOSTER AND A FLU VACCINE ASAP.