Disease Outbreaks: Stay Informed with a New Iphone App
Here's today's post from ProMed Digest about the latest way to keep on top of disease outbreaks.
Date: Tue, 10 Apr 2012 22:10:56 -0400 (EDT)
From: ProMED-mail <[email protected]>
Subject: PRO/ALL> Announcements (02): HealthMap iPhone, iPad and Android apps
ANNOUNCEMENTS (02): HEALTHMAP IPHONE, IPAD AND ANDROID APPS
***********************************************************
A ProMED-mail post
<http://www.promedmail.org>
ProMED-mail is a program of the
International Society for Infectious Diseases
<http://www.isid.org>
Date: 10 Apr 2012
From: John Brownstein
HealthMap <http://healthmap.org>
HealthMap is announcing the release of new iPhone, iPad and Android
apps. Visit the iTunes Store and Google Play to download "HealthMap:
Outbreaks Near Me."
With Outbreaks Near Me, users have access to the latest information on
infectious disease worldwide. Check the most recent health news in
your neighborhood or travel destination, or submit reports of new
outbreaks that have not yet been identified.
The new app maintains familiarity but features a sleeker look,
increased usability, and more features. Switch between map view, list
view, and news from our publication, The Disease Daily. Submit a new
report, or view your past submissions by entering your email address.
Outbreaks Near Me
With HealthMap's Outbreaks Near Me application, you have all of HealthMap's latest real-time disease outbreak information at your fingertips. Open the app and see all current outbreaks in your neighborhood, including news about H1N1 influenza ("swine flu"). Search and browse outbreak reports on the interactive map, and set up the app to alert you with a notice automatically whenever an outbreak is occurring in your area. If you know of an outbreak not yet on the map, be the first to report it using the app's unique outbreak reporting feature. You will be credited and your report will be featured on the website.
Read The Press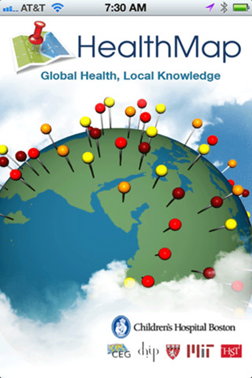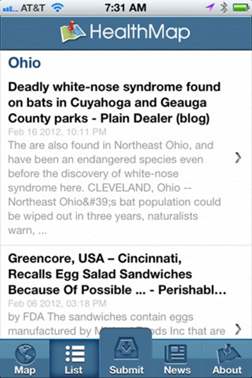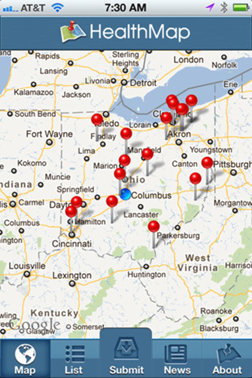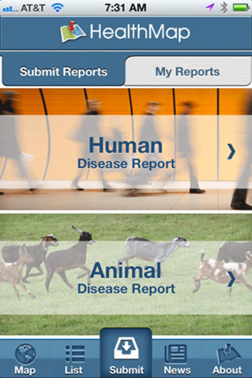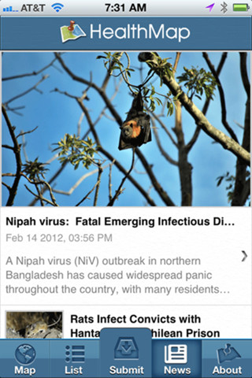 0 Comments